Visioning #5

Size: 9'7" x 30" x 24" Location: Pedestal # Price: $16,000.00 This piece is part of a 2018 forged sculpture series entitled"Visioning #5." Pulling sticks of yellow-hot, 2,500-degree steel from the fire and hammering them into shape before they cool fascinates and excites Christopher as it has mankind for thousands of years. The fluidity and immediacy of forging induces the intuitive, in-the-moment state in which he likes to create. He notes that maintaining this freedom of process in larger pieces is an interesting challenge, when using jib cranes and large industrial power hammers.

Visioning #4 - 2019

$16,000
2'x10'x2'
This new series, "Visioning," emphasizes a traditional, blacksmitherly technique in the central purple forged element. The other three vertical elements are forged from heavy steel stock, so the lyrical hammer blows are quite evident to the viewer. The purple and green finish enhances the dynamism of these forged elements as they move slightly with the wind, reaching skyward in optimism.

Opening #1 - 2018

This is the first in a new series called "Opening #1." For these sculptures I pull long pieces of dripping-hot steel from the fire, and hammer them to shape in the moments before they cool, or before the next piece overheats. The forgings are executed without the constraints of preconceived ideas on how they will fit into the final composition.
Meet the Artist
Christopher Thomson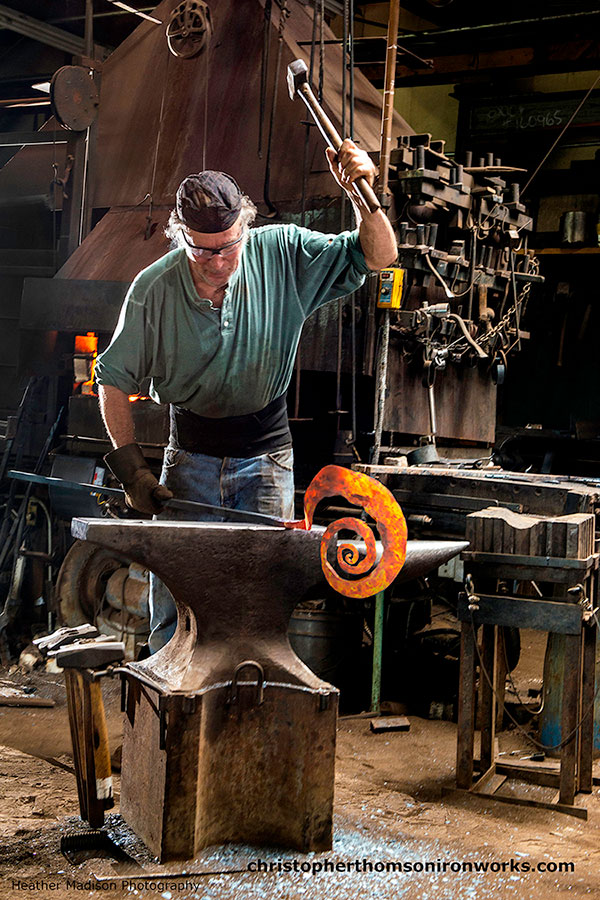 I grew up tinkering in my father's basement workshop in Maryland, bicycling to the Potomac River, and kayaking passionately. I was lured to the West, where I learned blacksmithing and created an artist blacksmith studio in Ribera, New Mexico in 1985. There my wife Susan, and I design forged steel lighting, furniture and sculpture, and I kayak the western rivers.