Think Green

Size: 4' x 6" x 5' x 30" Location: Pedestal # Price: $6,500.00 Most of us are critically aware of the need to be mindful of climate change, and the fact that we are responsible for the survival of our planet. "Think Green" is a reminder to all of us that we need to take an active role in helping reverse the damage that we humans have doneto our beautiful planet. Richard likes the story of the Frog Prince, who could grant wishes and change the world around us. He crafted the park bench with the whimsical creaturelying on it, so that people could sit by him, and even ask his advice orrequest that he grant a wish. Richard enjoys creating sculptures that make people smile.

Bad To The Bone

Size: 5' x 5'x 3' Location: Pedestal # Price: $ Richard has always loved music. He says music helps himwork, andkeeps him in a good mood while working. Growing up on rock and roll music, Richard's favorites included Elvis, The Stones, and The Beatles, along with country, classical, symphony, hip hop, and just about any musical genre. In the last few years he has also become a fan of Steampunk art, incorporating found objects such as chains and gears to create relatable subjects. This Steampunk-inspired sculpture is Richard's interpretation of a rock star jamming on his guitar. Rock on!

A Window in Time - 2019

$9,500 7'4" tall

A Window in Time - 2019

$9,500 7'4" tall

Jules Vern II - 2018

My welded metal fantasy steampunk airship, Jules Vern II," works and spins like a weather vane, with two propellers on the rear that also spin with the wind. I've added many found objects to the ship, such as bike chains and discs, knobs, fruit bowls, gears, fittings and other items. it is built with steel, stainless steel, bronze, brass, copper, and chrome to give it contrast.
Meet the Artist
Richard Prazen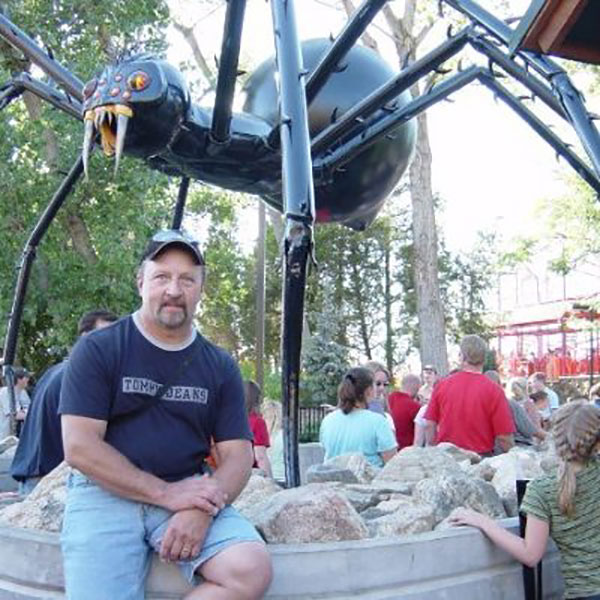 I am a metal sculptor living in South Jordan, Utah. A third-generation artist,
blacksmith and sculptor, I've been doing metal sculpture and crafting architectural items for over 50 years, working in my home studio shop. Currently I'm a professor at Salt Lake Community College, where I've been teaching Fine Art Metal Sculpture for 12 years.